Every spring
for the past several years the Arnett Block Association has hosted a Bike Clinic in the His Branches parking lot run by volunteers from R Community Bikes. The event heralds the beginning of the bike season, and both kids and older neighbors bring out bikes from their basements and garages that need reconditioning to be street-worthy. Other kids come in hopes that they will be one of the many winners of a free rehabbed bike in the free raffle.
This year people started arriving and lining up even before the R Community Bikes van arrived at 1 pm, and the last bike was just being finished when the event closed at 4 pm. Nearly 30 bikes were repaired, 15 bikes raffled off to eager young people, free helmets and bike locks were distributed, and everyone had a wonderful time in the sun chatting with neighbors, visiting the rolling Bike Library that visited, cooling off under the cold water tent, learning to ride again (or for the first time), and generally "being community."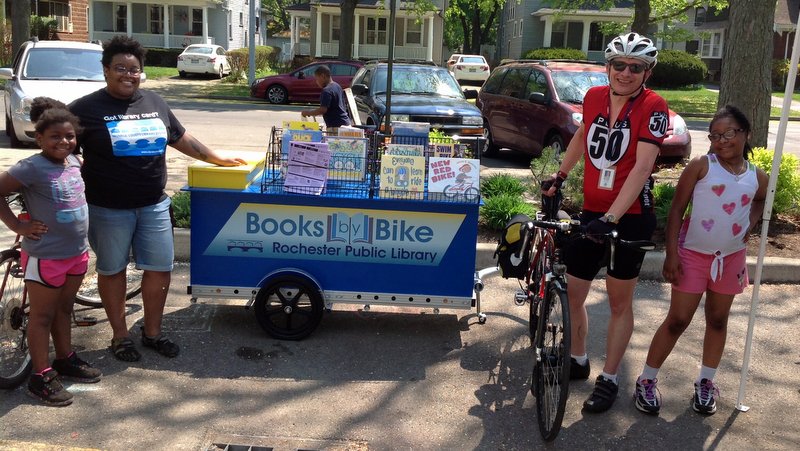 The Library "Books by Bike" arrives in tow with stories for the kids!

A panoramic view of the event just half an hour after it started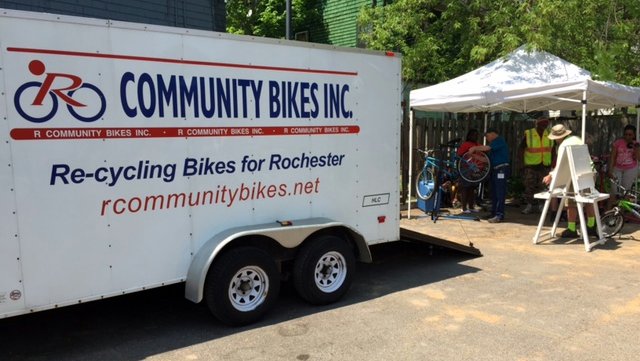 R Community Bikes' well-equipped van, tent, and volunteer crew