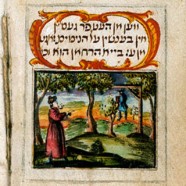 The celebration of Purim
will begin this Wednesday, March 20, as Jewish communities worldwide commemorate the historic rescue of the Hebrew people in Persia from destruction during the time of Esther. Although it is not a major holiday, it is one of the most entertaining festivities in the Jewish calendar.
According to the Old Testament account written in the book carrying her name, a beautiful young Jewish woman living in Persia named Esther was taken to the harem of Ahasuerus, King of Persia, where she became his queen. While there she discovered a plot being developed by the king's chief advisor, Haman, to destroy the entire Hebrew population in Persia. Through a series of providential events Esther was able to expose the plot to the king, which resulted in Haman's execution and the rescue of the Jews.
These historical events are recalled every year by reading the Book of Esther and celebrating with feasting and drinking, charitable gift-giving, games, costume parties, and eating special triagular fruit-filled cookies called hamentaschen (lit. Haman's pockets) that are supposed to represent Haman's three-cornered hat. Click here to read more about this enlightening Biblical holiday.