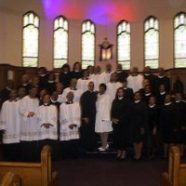 A Visitation of New Life
Saturday noon's session of the 2018 Arnett Library Music Series saw a great turnout of enthusiastic neighbors participating in a gospel song fest put on by the New Life Fellowship Gospel Choir, and everyone got into it!
If you missed the event, click on the video below for a taste of the time we had together.
Want more? Just visit New Life Fellowship, right in the neighborhood at 330 Wellington Avenue, some Sunday morning at 10 am.