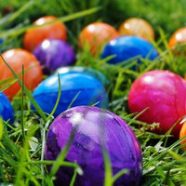 Egg Hunt a Big Success!
This year's Easter Egg Hunt was a wonderful event today, thanks to our dedicated neighborhood volunteers (including Captain Rora) and a loving God who broke open the cold, rainy weather we've been having and gave us a delightfully warm, sunny day to celebrate.
Dozens of kids showed up with their parents and older siblings, waited with amazing patience for the starting signal, and descended on our neighborhood Bird & Butterfly Garden in droves. Within minutes, the eggs had been gathered, smiles all around, with time to spare to greet the visiting policeman mounted on his horse. Then it was off to the Arnett Library next door for Story Time.
Preparations had begun earlier in March when the volunteer garden crew got together for planning for the gardening season at a pot-blessing luncheon at the Morehouse home 2 blocks away and stayed afterwards to pack goodies into plastic eggs for the event. Check out the pictures and video below for a taste of the excitement!