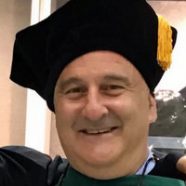 An ER Doctor Speaks at a High School Graduation
Last week, I delivered the Baccalaureate address at my alma mater North Central High School in Indianapolis. This is what I said to the graduates:
In kindergarten, I got a prize in the science fair for painting Play-Doh black. I wedged plastic dinosaurs and saber-tooth tigers in it to make it look like the La Brea tar pits. I think it was in 4th grade when I won a ribbon in the Allisonville grade school pancake supper poster contest.
And those two pinnacle moments pretty much sum up the entirety of my academic accolades in Washington Township schools, including all the way through high school.
I got an F in high school chemistry, and an F in algebra and a bunch of C's, a couple D's and if it weren't for gym and kings court singers, I doubt I would have gotten any A's. Any kings court singers here? I was the jester in the madrigal dinner. I did a few other things. I was in junior spec, Reviewing the Situation, 1981 baby. I played trumpet in band — actually I was second to the last trumpet — which means I played exactly two notes in every song. Blaaamp blaaammp.
Nobody ever saw my name on some academic kudos report sent out by the school, and no parent ever uttered the words: "Louis Profeta made honor roll, why can't you?"
And if I had to apply to college today at Indiana University, I would not get in.
Click here to read the amazing message that Dr. Profeta shared with these graduates.