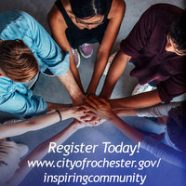 Empowerment Conference in October
Saturday, October 13 from 8 a.m. to 4 p.m. residents will have an opportunity to take part in "Inspiring Our Community: Today, Tomorrow and Always", a conference sponsored by Mayor Lovely Warren, WDKX Radio and MJS Productions.
Please see the attached letter from the Mayor for conference details, workshop descriptions, and information on how to register.
You may also use the graphic below to post on your social media platforms.
Please feel free to share this information with your ministry networks and if you have any questions, please call me at 585/428-6684 or email me at the email address above, thank you!
Tracey D. Miller, Assistant to Mayor Lovely A. Warren Esq.