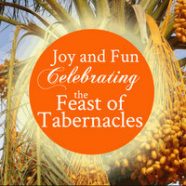 The High Holidays
or "Days of Awe" and Rosh Hashanah have just concluded this past week with the solemn fast and deep contemplations of Yom Kippur, and we are about to embark this week (click here for a calendar and brief explanation of this fall's events) on one of our faith's most lasting celebrations, Sukkot or the Feast of Tabernacles.
Every biblical holiday given to the Jewish people has these three aspects: Israel was commanded to observe the holiday in the present in order to remember something God had done in the past, and because of some future prophetic purpose hidden within each festival.
Thus Jewish people begin Shabbat each week by lighting of two candles, which stand for "Keep" and "Remember". In so doing, they remember how God rested on the seventh day of Creation while also looking forward to the Millennial rest promised for the whole earth.
Likewise, Passover and Pentecost look back on the great Exodus from Egypt and the giving of the law at Sinai, while Christians believe that their hidden prophetic purposes were fulfilled in the death and resurrection of Jesus and the birth of the Church fifty days later.
The Feast of Tabernacles (Sukkot) is the third great annual pilgrimage festival when the Jewish people gather together in Jerusalem not only to remember God's provision in the Wilderness but also to look ahead to that promised Messianic age when all nations will flow to Jerusalem to worship the Lord.
Then everyone who survives of all the nations that have come against Jerusalem shall go up year after year to worship the King, the Lord of hosts, and to keep the Feast of Tabernacles. And if any of the families of the earth do not go up to Jerusalem to worship the King, the Lord of hosts, there will be no rain on them. And if the family of Egypt does not go up and present themselves, then on them there shall be no rain; there shall be the plague with which the Lord afflicts the nations that do not go up to keep the Feast of Tabernacles. This shall be the punishment to Egypt and the punishment to all the nations that do not go up to keep the Feast of Tabernacles. Zechariah 14:16-19
Click here for information about the ICEJ Feast of Tabernacles celebrations in Jerusalem.