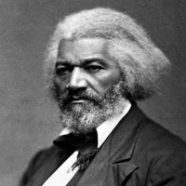 Rochester's Year of Frederick Douglass
Black History Month marks a time when we reflect on the important contributions made by iconic African Americans to civil rights, culture and science, and technology within American society.
Appreciating and understanding the importance of Black History Month aligns with His Branches' Purpose and Core Values. We strive to serve our community and patients, families, and colleagues with dignity and sensitivity in Christian love .
As an important figure in African American history and the national faith community, Frederick Douglass lived in Rochester for nearly 30 years from 1843 to 1872, publishing his newspaper The North Star here. His home was located across the street from Highland Hospital where Rochester City School #12 now stands. During his lifetime, the abolitionist, social reformer, preacher, speaker and writer was a prominent figure in American political action.
The City of Rochester and Monroe County have proclaimed 2018 as "The Year of Frederick Douglass." More than 50 arts, cultural, educational, and civic groups have planned a year of events to celebrate Douglass's life and work in observance what would be the 200th anniversary of his birth. To find out more about events celebrating Douglass throughout the year, including those for the Douglass monument that currently stands in the Highland Bowl and will be moved to a more visible park location on South Avenue and Robinson Drive this spring, visit cityofrochester.gov/frederickdouglass200.