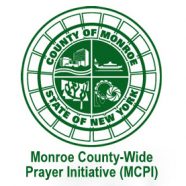 2019 Intercessory Prayer Calendar
Dear Family, Friends, Ministry and Community Leaders, and Elected Officials,
Attached please find the 2019 prayer calendar for your use and to pass out to your circles / ministries.
Thank you for all of the emails and updates in 2018 as you took your place on the wall and interceded for our community. It makes a big difference.
Entering its 12th year (since 2008), the Monroe County-Wide Prayer Initiative allows us to employ a collective, yet flexible strategy of prayer that will result in participants systematically praying for almost every neighborhood in the City of Rochester, as well as every town and village in Monroe County.
Weekly, from wherever you are, you will join hundreds in prayer for the focus area of the week.
I look forward to joining you as we pray for specific communities, our government leaders, the schools, and the families of our county.
Please don't hesitate to forward updates and testimonies.
Respectfully,
MCPI Founder and Director