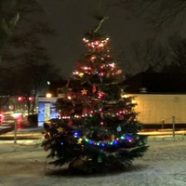 Christmas is on its way!
This year's community Christmas tree in our Garden Park on Arnett Boulevard has been a great success! From its arrival from Naples and set up by an enthusiastic group of neighborhood volunteers and local Firemen on December 1, to its decorating from top to bottom the following Monday by classrooms of local elementary school students, its been lighting up the neighborhood with the Christmas spirit of unity and harmony.
Look for scenes from our community caroling around the tree event on December 11, in the slideshow posted below. We had a bright bonfire going to roast marshmallows on, warm refreshments to share, and a time of celebrating all that's good in our neighborhood. Click here to read a full report.
Come on by and visit while it's up!
And contact us to volunteer in community park events in the future.