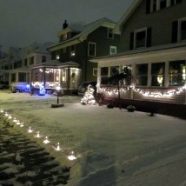 Arnett Branch Library
The first event will be on January 19, 2017 from 12-1 pm at Arnett Library, kicking off with a tribute to King with guest speaker Monroe County Legislator LaShay Harris, the 19th Ward Youth Choir, poetry by Eric Hines, and spoken word drama by the MIBG group coordinated by Robert Ricks. The program promises to be an inspiring event!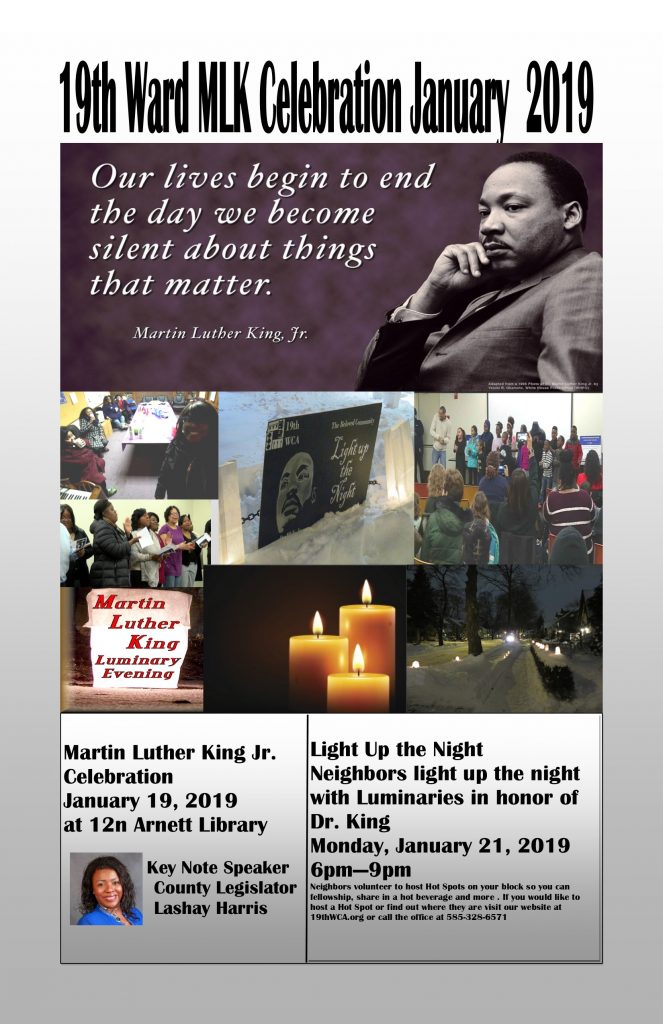 U of R Medical Center
On Monday, January 21 at 11:30am to 12:30pm the 38th Annual Martin Luther King Jr. Celebration in Poetry, Dance, and Song will be held at the U of R School of Medicine and Dentistry, Whipple Auditorium (2-6424), 415 Elmwood Ave, Rochester, NY 14642. The event is sponsored by 1199 SEIU United Healthcare Workers East and Medical Center administration.Jonathan Jamel Reynolds, pastor of Aenon Baptist Church, will present the keynote address.
19th Ward Community Association
For many years the 19th Ward has celebrated Dr. Martin Luther King's birthday in a public, community-building manner and will be doing so again this year. The 14th Annual Luminary Evening begins at 6:00 pm on Monday, January 21 when residents of the 19th Ward will begin setting out luminaries on the sidewalks in front of their homes to celebrate community, friendship and the memory of Dr. Martin Luther King's dream.
The luminaries themselves are small paper bags weighted down with sand or kitty litter and containing a votive candle. Neighbors make a number of luminaries and set them at the sidewalk edge of their tree lawn from sunset until 9 pm, making a beautiful sight. We will have a limited supply of Luminary kits available for pick up January 19 at the MLK celebration at Arnett Library and from the 19th Ward Association office 216 Thurston 1-3 pm the prior week. Click here to see how to make your own Luminaries in a YouTube video by a 19th Ward resident, Moiet.
Some people host warming fires and a hot chocolate stands, called Hot Spots. Open your door in 2019 sign up as a Hot Spot; this is a social gathering serving a hot beverage and maybe cookies to your neighbors and sharing your thoughts on legacy of King. We are looking for more homes willing to be Hot Spots. This simply means that you provide hot chocolate and/or hot cider and/or a bonfire, anything warm, and of course a friendly smile on a cold winter night. Send questions or a commitment to info@luminaryevening.com.
Contact or info@luminaryevening.com. or MLK Committee Chair Zola Brown at 585-210-9370 if you have any questions,  Celebrating MLK Day serves as an opportunity to honor Dr. Martin Luther King Jr.'s commitment to social activism and the legacy that has inspired us to continue his movement.